When emptying a conventional potty chair you have to pour the pee and/or poo over the area where the child sits and pee dribbles down the side of the potty and can go everywhere. We found that really annoying when potty training our first two children and so we have come up with a very simple but effective solution – the Pourty potty. We are now potty training our third child with the Pourty potty and it works fantastically.

You can pour the poo and pee through the duct out of the back of the Pourty potty away from where your toddler sits or touches with no messy dribbles. Simply clean by refilling the Pourty potty with water and dumping it out of the back of the potty again. The Pourty is a one piece potty which makes it easy to clean and more hygienic as there are no little nooks and crannies where germs can fester.
It has a large and wide seating area which is comfortable to sit on for boys and girls. With some potties the narrow seating area can be uncomfortable and leave a red ring around your child's tush when they stand up.
The two sides of the back rest of the Pourty potty offer ample support to your child if they do lean back and are shaped for maximum comfort. The Pourty potty's splash guard is higher than on a lot of potties to help prevent any unwanted spillage, especially when boys are using the potty.
The Pourty potty is made out of a sturdier plastic than most normal potties. This helps give the child confidence when sitting on the potty and also means that there is less risk that the potty will stick to their tush when they stand up (which can have unfortunate and messy consequences).
The Pourty was designed by parents Jonnie and Lucy Rathbone and is made in England and in China.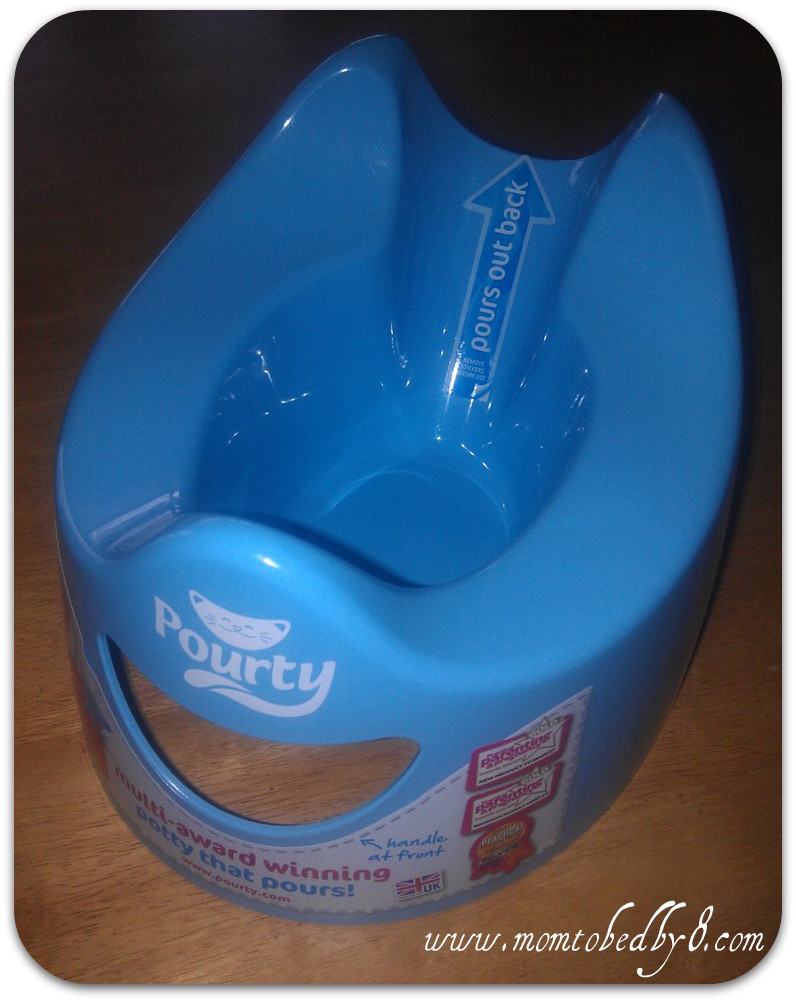 What the momma thinks…..
Finally a tiny potty that is perfect for my two year old trainee. The Pourty maybe questioned at first sight but after a month of use, it is our go to toddler potty of choice. The very light weight, one piece design is easy to place nearly in any location. It also makes it ideal for on the go travel which is important to us during spring break and summer months. Honestly you can't keep the kids and I in one place during those school-free times of the year. I dreaded taking along our kids bulky training potty when the oldest were in that stage of life and the sit-on-top pieces can get very yucky when using in a public restroom; making me want to toss them out after every long trip.
The sleek design and eye appealing colors are helping my little guy transition from diapers to undies. He is actually excited to sit on his big boy potty. The size seems to be ideal as he has never fallen through and has extra space on the sides as needed when he grows.
In the end, my all time favorite feature is the simple lift and dump of the one piece unit. This is a genius design. It is low cost, pleasant in appearance, easy to store and travel with and kid friendly. I can't wait to get a second one for my master bathroom in the new house (coming in May). Trust me if you have a child at the potty training age or one that will be, you want to try this.
Make sure you also check out the potty training page for reward charts and diplomas which are free to download!
BUY IT: Purchase the Pourty potty from Amazon.com.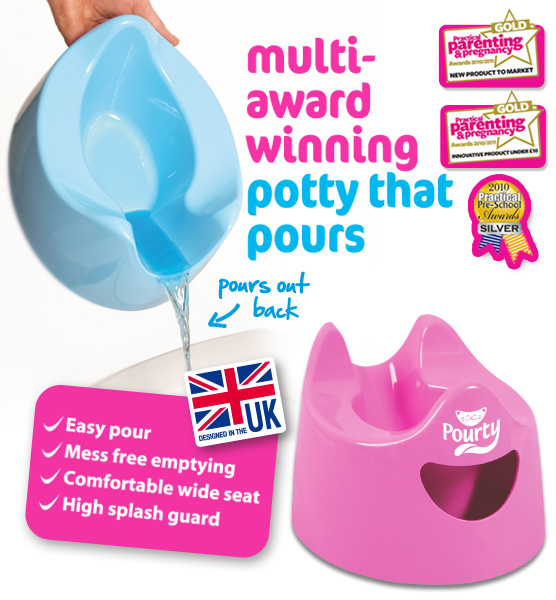 WIN IT
Pourty is sending one Mom to Bed by 8 a potty of your choice color! 
Disclosure: I receive sample(s) free of charge from Pourty for purpose of testing and review. My opinions are my own and may differ from those of your own. I am disclosing this in accordance with the Federal Trade Commission's 16 CFR, Part 255: "Guides Concerning the Use of Endorsements and Testimonials in Advertising." Please view our disclosure policy if you have any questions. Mom to Bed by 8 is not responsible for sponsors that do not fulfill their prizes.